EAFB Civilian-Military Support Group Accomplishments
The EAFB Civ-Mil was founded in 1988/1989. Below is a list of accomplishmentsof the Civ-Mil support group.
EAFB Civ-Mil Donates for ALS Upgrades
Published by Aerotech News and Review: an EAFB Civ-Mil Corporate Member
Edwards Air Force Base Airman Leadership School cadre putting the final touches of paint in the student resource center prior to moving in furniture and fixtures at Edwards Air Force Base, Calif. (Air Force photograph by Danny Bazzell)
The Edwards Air Force Base Civilian/Military Support Group announced at their monthly board meeting on April 8 that the organization has made a donation of funds towards the first phase of upgrades at the Edwards AFB Airman Leadership School. The project, which is expected to take two months to complete, began in March and will consist of a student resource space in one of the buildings on the ALS campus and an instructor room, which, according to Staff Sgt. Nicholas Covello, an instructor at the ALS, is "something we haven't had in at least 10 years.
The resource center will allow for a more comfortable learning environment where students can work on their studies both individually and as a team while the instructor room will serve as a much needed work space for the ALS instructors. Civ/Mil's donation will support the cost of the project to include paint, fixtures, furniture and electronics.
"The staff wanted to create an experience for each student walking through those doors, and being a great schoolhouse when attending as a student is the difference between being a good ALS and a great ALS," said Master Sgt. Chad Hardesty, Edwards AFB ALS Commandant. "I think as an Airman Leadership School, if you can get two things right – having clear direction on the type of culture, and bringing in the right instructors who can execute the vision – then every student will leave with an experience of a lifetime."
Civ/Mil is a local, community-based non-profit organization founded in 1985 by local business woman and civic leader Aida O'Connor who passed away in 2019. According to their website, "The purpose and general nature of the Edwards Air Force Base Civilian/Military Support Group is to establish a friendly benevolent association of civic leaders and military personnel at Edwards Air Force Base, to act as a host group whenever needed and additionally, to consider an annual service project to benefit EAFB."
Past Civ/Mil projects include construction of the flag park across from Air Force Test Center headquarters (Bldg. 1), renovation and sustainment of Higher Grounds (a social gathering space in the dormitory complex), carpet at the Airman's Attic and ongoing support of the Airman's Emergency Relief fund which is run by the First Sergeants' Council.
In honor of O'Connor and the organization she founded, the new Student Resource Center will be named the "Aida O'Connor Student Resource Center" at a dedication ceremony to be held upon completion of the project which is expected to take place in early June.
"Aida O'Connor was an amazing servant leader to the local community and Edwards Air Force Base," Hardesty said. "This room will exemplify what she did for our Airmen each and every day, ensuring that a culture of excellence was feasible. She never allowed someone for one second to forget how amazing they are and that with hard work anything is achievable. To have a space where Airmen can do just that each and every day makes this room much more special to us and the memory of Aida O'Connor."
2020 - The Year in Review
Read More ...
Thirty Years of Service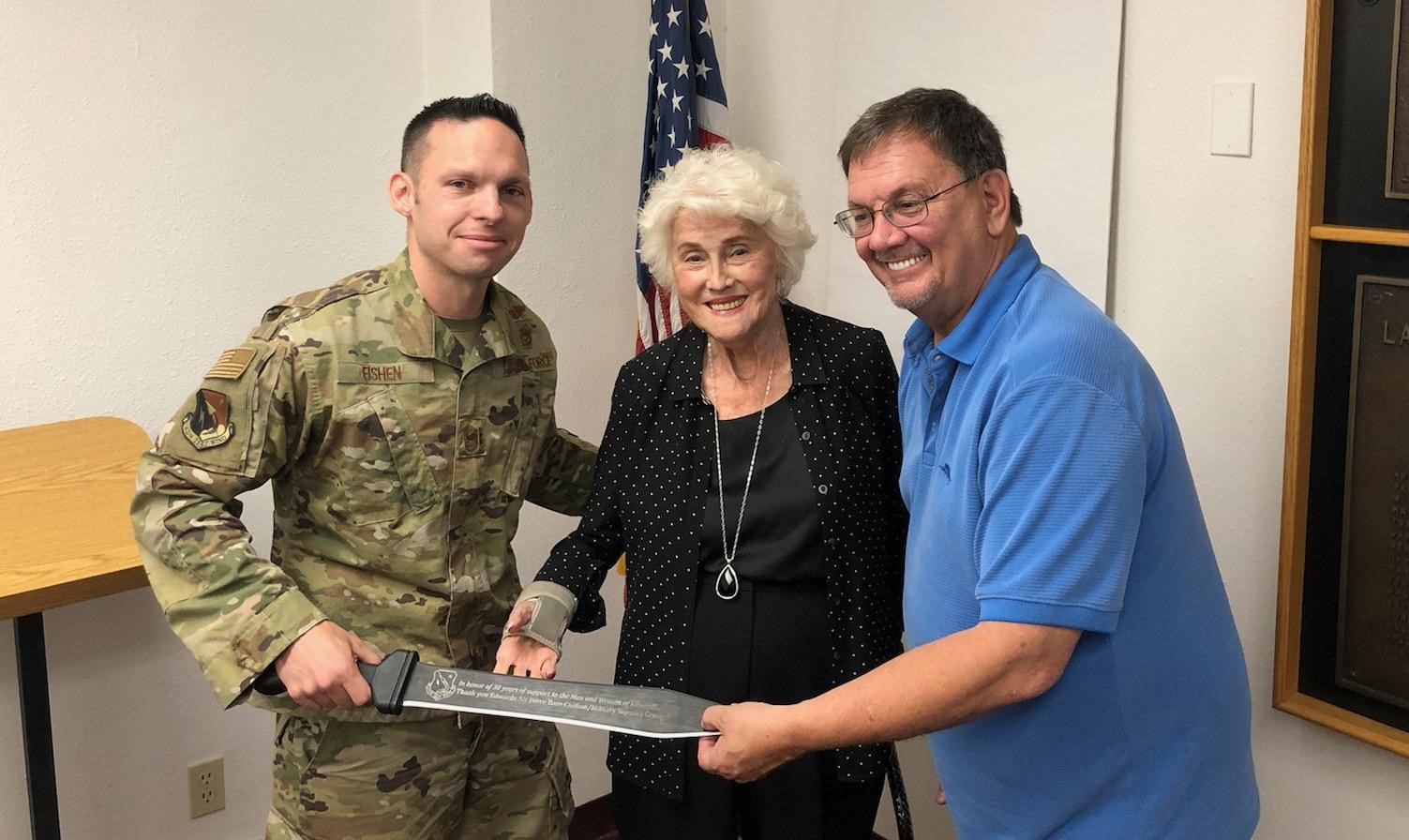 At the Board of Directors' meeting on August 8, 2019, Civ-Mil was presented with a Thirty (30) Year Service Award.
Shown above is CMSGT Ian Eishen presenting the award - a Ceremonial Sword - to
Civ-Mil Founder Aida O'Connor and Civ-Mil President Allen M. Hoffman.
The engraving on the sword reads:
"In honor of 30 years of support to the men and women of Edwards AFB
Thank you Edwards AFB Civilian/Military Support Group"
Airman's Attic
Phase 1: Funded approximately one half of the carpet tiles.
October 13: 2010: Installation completed.
Phase 2: Fund the remaining carpet tiles. In work.
Air Show and Open House
Sponsor. Set up booths and manned them with posters showing the current history of EAFB. Placed banners and other decorations and posters for the VIP tent as well.
Armed Services Day Parade
Financed buses for Airmen to participate in the Armed Services Day Parades.
Building 1600
Purchased the large US Flag used for Building 1600 events.
Civ-Mil Wall
Annual replacement of displays. First begun in September, 1998 and accomplished major renovations to it numerous times. This wall has been on display at various places at EAFB. It currently resides at the Consolidated Support Facility in the 95th Air Base Wing Headquarters Building.
Deploying Troops
Provided numerous, over 3,000, goodie bags for deploying service men and servicewomen. (Ongoing since 2002)
Employee of the Year program
Annual since 2002
Flag Park across from Building 1
Fully funded. Provided flags and poles. Replaced all flags several times.
Honorary Commanders' Program
Formalized across the AFFTC by MGEN Curtis Bedke the AFFTC Commander, and facilitated with the help of the EAFB Civ-Mil on July 28, 2005. Aida O'Connor was the first Honorary AFFTC Commander.
Operation Higher Grounds
Higher Grounds Internet Café. Supplied the day-room furniture, 6 Computers and 2 Plasma TV's.
July, 2007: Ground Breaking
August, 2007: Dedication
2009: Supplied the coffee for the year
Operation Shoe Fly
Joint Air Force and Marine assistance. Provided 7,000 pairs of shoes to Afghanistan (Summer, 2004).
Operation Warm Heart
Holiday Gift Baskets for families (Annual Holiday Meal Program).
Christmas presents for children (Angel Tree).
Support of the US Marine's Toys-for-Tots programs.
Annual support since 2000.
Picnic Tables and Benches
Several projects all over the Base from 1995 - 2006, to include:
Concrete picnic tables and benches at the Flag Park.
Picnic tables for the Air Force Research Laboratory (2001).
Six Benches for the Yeager Sound Barrier Park
Provided benches at the Century Circle display.
Welcoming Receptions
Sponsored welcoming receptions for the Chief of Staff of the Air Force, AFMC Commander and numerous other Distinguished Visitors and Civic Leaders from around the USA.
60th Anniversary of the USAF
Sponsor.